How To Revise A Paper: Recommendations From Experts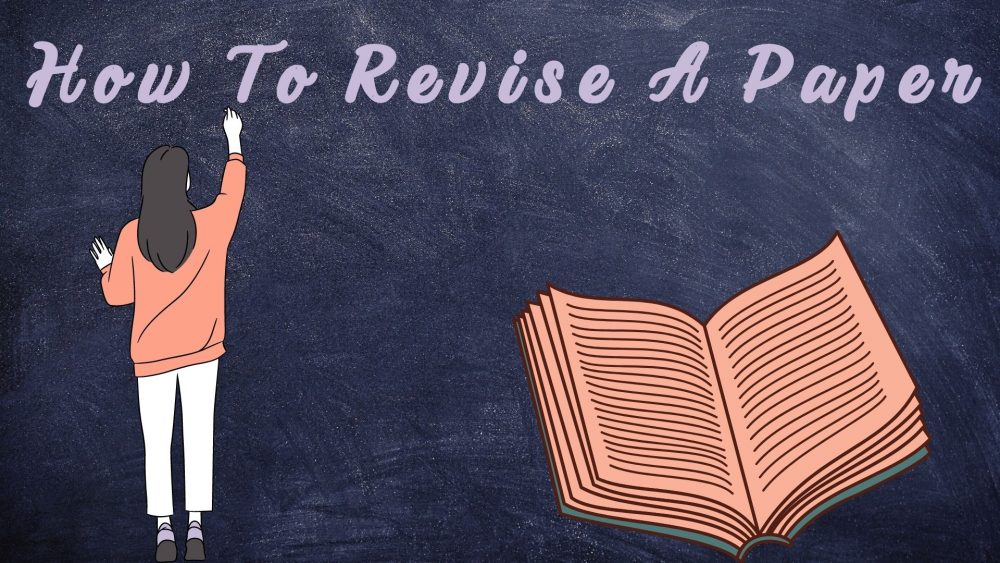 Paper revision is not the first step when writing any piece of academic work, but we must say it is one of the most important. Many are times when students skip revising their papers, but this can easily water down the quality of an otherwise properly-writer paper. Revising a paper requires you to look at it from a different perspective, but this is never easy, especially after a lengthy process of researching and writing the academic piece. Indeed, even the most talented writers understand the crucial role of revising academic papers once done. So, how exactly do you revise a paper? Keep reading for the best expert tips on how to revise an essay like an expert for top grades.
Table of Contents
What Does it Mean to Revise a Paper?
Although the term revision is often confused with proofreading, the two are very different. The word revision means to see again, implying that it is way more than proofreading. When you set off to revise paper, it implies that you are going back and looking at the ideas presented therein to ensure that they articulately fit the objective of the academic piece.
According to academic experts in many universities and colleges, an academic paper is supposed to go via multiple drafts or stages before submission for marking. This is why they use most of their time reorganizing, rewriting, and rewording drafts before submitting for marking. However, not everyone wants and needs to go that deep into working on a paper. Using custom term paper writing service will be an excellent idea for such students. The methods of revising an essay might differ slightly depending on the writer. For a linear type of writer, the process of preparing a paper follows a clearly defined process, such as brainstorming, preparing an outline, preparing a draft, and revising it. However, recursive writers do not follow a clearly defined approach. For example, they might start with the draft and then work on the structure of the paper. In such a case, revising the paper may take place throughout the writing process.
How to Revise Essay: A Step-by-Step Guide
Revising a term paper takes the steps we are going to outline shortly, and it involves looking at the written work from various angles. During revisions, you make major changes to improve the essay's focus, development, and flow. In every step, you must stay focused on the targeted audience.
Step One: Give Yourself Ample Time When students set off exploring how to revise and edit an essay, one of the main questions at the back of their minds is, "how long does it take?" We must indicate that there are no distinct timelines, and it all depends on the piece of work and the respective student's abilities. The best idea is to ensure you have ample time, preferably a day, after completing an assignment. After completing the paper or essay, resting can help you remember new details and put extra focus on the paper. If you do not have a lot of time to spare before revising the paper, it is advisable to do something completely different before embarking on the revision process. Consider taking a walk, visiting the gym, watching a movie, or anything to take away and refresh your mind for some time.
Step Two: Read the Paper Loud If you are tired after, especially after the long process of preparing the essay, the brain can easily miss on fine details of the idea being put through. For example, you are likely to miss some typos, and such mistakes might compromise the quality of the paper. Reading the paper loud makes it easy to catch most mistakes and correct them properly.
Step Three: Focus on the Ideas Presented in the Paper Some of the most emphasized components in many revision tips for writing revision papers are typos and grammar mistakes. However, these are not the only items you should focus on. In addition, you should think of the overall idea or ideas presented on the paper. As you ensure the sentences are perfectly done, the ultimate idea should also be as clear as possible. If the paper is talking about global warming, you might want to check closely to ensure that it starts with a definition, a brief history, causes, threats, and possible solutions.
Step Four: Check the Format of the Paper Another important item that you must check carefully is the paper format. You will need to go back to the original instructions and confirm that the details have been met. Here are some important questions that you need to ask to correctly revise the paper format.


Does the paper have enough words?
Did your lecturer ask students to talk in first or second person?
What formatting style is required for the paper?
Is the essay too long or too short?
Writing Revision Tips: 4 Things You Must Check
One mistake that college and university students make is trying to get over the research paper or essay as fast as possible. Even if you have a tight deadline to write the research paper, it will be an excellent idea to use an essay reviser to do the job. In addition to the process of revising a paper that we highlighted above, here are some important things you need to focus on:
The Paper Organization: To write a quality college essay, it should have a clear introduction, body, and conclusion. This organization should make the paper engaging. In the introduction, the paper should have the hook statement, thesis, and a brief summary of the entire work. The body follows immediately, highlighting more details, and the conclusion comes last to wrap up the entire paper in a few sentences.
Content of the Paper: When you write or review a paper, the entire work should be linked with the title. The introduction, the thesis, body, and conclusion should allow the reader to easily link the work with the main topic.
Sources Used: A good paper must be comprehensively researched to cover all the main points. Therefore, you need to check back to ensure that enough and relevant resources have been deployed.
Check Plagiarism: When revising or editing a paper, every student must confirm it is free from plagiarism. Almost every school, college, or university has its own rules on plagiarism, and you should pass the paper through a good similarity checker to identify areas of similarity. Then, rewrite the sections that returned some similarity until the paper is 0% plagiarism.
Writing Revision Tips: 5 Things to Do to Further Polish Your Work
If you ask expert writers how they did it, most of them will say that the focus needed to revise essays is almost equal to that of preparing the paper. The following tips will come in handy to help you to further polish your work.
Consider asking another person to read through your paper. In most cases, students ask their colleagues, but a coworker, friend, or even boss might be able to help. If they make suggestions, to factor them in the paper, improving it every step of the way.
Think of your essay as a type of presentation. Just like a presenter polishes a paper to be presented to investors, the same approach can help you note errors in your work.
Check other top-rated work: This can assist you to note how other expert academic writers presented their work. How did they craft captivating introductions? What is the flow of ideas? How does the conclusion relate to the introduction and thesis statement of the paper?
Proofread the work more times: Even after revising the paper, do not fail to revisit it again and again. Additional proofreading might be the golden moment to identify disharmony between sentences and correct them for top grades.
Think link a reader: When you finally submit the paper, it will be marked and graded by your class teachers. Therefore, you need to look at the paper from the lecturer's perspective. If you were to mark the paper, how would you rate it? Be as honest as possible to identify issues that require to be addressed.
If you want to get a high grade, it is better to seek the assistance of an expert writer. Our professionals will write a paper for you as fast as you need. 
Use Writing Help to Revise Your Paper
The process of revising a paper can be pretty complex, especially when trying to handle it a short moment after completing your paper. Although the recommended way to handle revision papers is to take as much time as possible, there are instances when the deadline is tight. In such a case, you should look for a knowledgeable person to handle the task. Indeed, this is not the only reason why you might want to seek the assistance of an expert essay writer. Here are other instances when you should work with an expert in term paper writing and handling revision.
The paper is complex, and revising it is a tough call for you.
You are not conversant with the process of term paper revision.
The last few papers that you did and revised performed poorly.
You have multiple tasks that need to be handled simultaneously.
No matter the reason making revising your paper tough, know that an expert who knows what are effective ways to revise a research paper for readability is waiting to help. Our services are rated the best because we only work with English native writers. They are fast and ready to handle even the revision tasks with very short deadlines. To get a paper reviser to handle your work on our service, we have simplified the process so much. It only takes a few minutes on our site and all that you need to do is contact us with a "write my research paper for me cheap" request. Our online custom revision services are also affordable, secure, and available 24/7. Why revise your paper and risk and risk getting a failing grade when a more knowledgeable professional is only a click away? You can never go wrong with a pro holding your hand. Visit our ordering page or chat with customer support to get your revision paper handled right away.
Frequently Asked Questions
What is the best way for the student to revise the essay? This is a process of revising an essay and it involves the following steps:
Put the draft aside and take a break.
Read the paper aloud.
Carefully check the paper to establish the main focus.
Review the format of the paper.
Proofread the paper.
How can you make research paper revision more fun? Revising a paper can be challenging, but it does not have to be if you follow the following tips:
Reward yourself only after revising specific numbers of pages or words, perhaps the entire paper.
Give yourself some breaks when revising the paper so that it does not become monotonous.
Practice more writing and revising even when not handling academic work.
Get a relaxing and comfortable place for revising and editing your work.
Why is paper revision so important? When you revise a research paper, it is a golden opportunity to re-envision the work. It makes it possible to rethink the essay's goals and determine whether they were accomplished. This is not all; revising your papers can help you grow as a writer and sharpen personal writing and analytical abilities. It also raises the chances of getting better grades on the paper you are preparing.
Don't be afraid to ask for help with your papers. Just leave a message, "Please, do my assignment for me!" and do not let paper revision be the reason why you feel stressed. If you need high qualitative help with your essay, contact our expert writers. We offer cheap and fast professional paper writing help for college students. Order your paper today and get time to relax!