How To Cite Research Paper Correctly In Any Format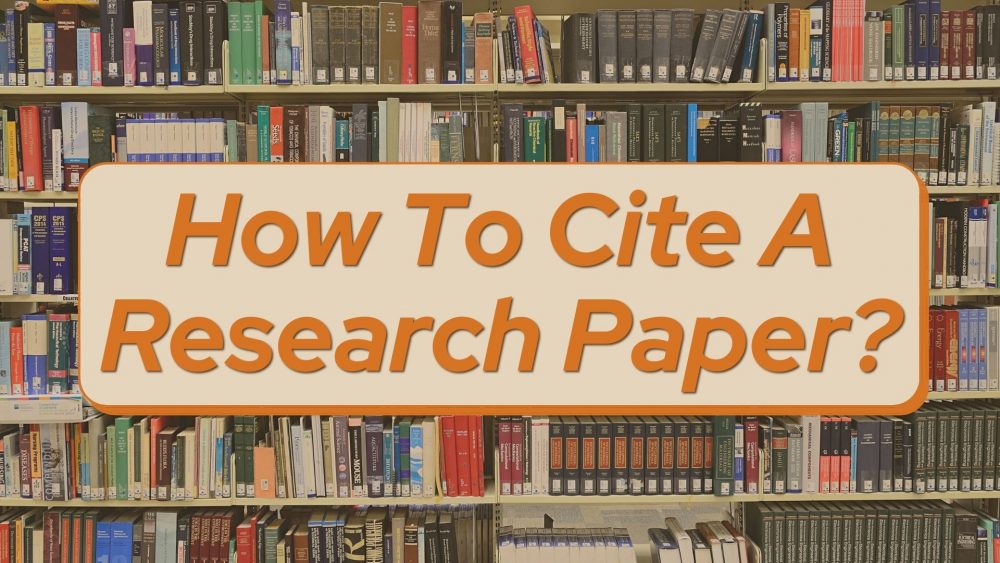 Writing a winning thesis, dissertation, or academic paper can be a nightmare if you don't know how to cite a research paper. The professor can ask you to use APA, Chicago, MLA, or any other citation style, depending on your academic discipline. Proper citation enables the students to incorporate their information sources according to acceptable academic standards. Consequently, learners must familiarize themselves with relevant citation styles before writing academic papers
What Is Citing A Research Paper?
A research paper citation references information sources that the author uses in research. It's using another person's work or thoughts while referring to them. Whenever you quote directly, summarize, or paraphrase the essential elements of another person's ideas in your paper, you must cite them accordingly.
For instance, you can use an in-text citation or brief notation in the text referring to the reader. Alternatively, you can use an end-of-paper reference, providing the necessary details of your information source.
Why Citation Matters
Citing research papers is crucial because it enables authors to counteract plagiarism. Ideally, writers use different citation formats to recognize literary pieces or the references they consult during research. University and college educators expect students to master different citation styles and gather adequate, relevant information before writing academic papers. After that, they should cite their information sources properly. Here's why citation matters in academic research:
Avoiding plagiarism: As hinted, citation enables researchers to quote other people's work properly. Thus, they acknowledge their information source.
Providing evidence: Citing data and studies proves that the author researched their topic before writing. And this is crucial when making a case after taking a position.
Respecting intellectual property rights: Maybe your paper includes industry information with intellectual property rights protecting the owner. Property rights include patents, trademarks, geographical indications, and industrial designs. In that case, citation exonerates you from intellectual property rights infringement claims.
Providing source document details: Citation enables reviewers to check data and argument lines in your work. It also allows readers to locate the source if they need more detailed information regarding your point in the paper or the subject matter.
Proper citation helps the academic research communities to place your work in the correct context. That way, they can judge its effect on your academic field.
How To Cite Research Paper
Authors have different ways to cite sources in a research paper. Ideally, these are various methods of referring to your source document in a thesis, essay, or research paper. They are as follows.
Quoting: A quotation is identical to the original piece. Quoting in research papers entails using a small part of the source material. Also, a quote matches the source document because it uses the exact words. Also, you must provide page numbers and attribute them to the original work's author.
Citing the entire document: You may want to reference the whole source document in some cases. However, this is not a standard research paper referencing method.
Summarizing and paraphrasing: Summarizing and paraphrasing involve adding the source material's information into your words. When paraphrasing, you don't use the original or source wording or add your opinion. Instead, you express the other person's ideas in your words. Paraphrased content should be shorter than the original work. When summarizing, you put the main ideas into your words while including the main points only. A summary is also more concise than the original piece while providing a broader overview of your source material.
In most cases, academic assignments and essays require paraphrasing other people's ideas. However, learners should avoid overusing direct quotations. 
When To Cite An Information Source
The reference entry or citation components allow readers to locate or identify the information source you used in your research. Ideally, academicians require students and authors to cite information sources whenever they use other people's work. Failing to do so intentionally or forgetting can dent your reputation as an academician or expert. Students and authors should cite sources properly whenever they do any of the following:
Quote another author's exact words
State or paraphrase other people's words in theirs
Adopt or reprint a table or a figure, including free diagrams and images from internet sources, whether licensed or free
Reprint copyrighted test items or long text passages
Refer to data sets or data
Failing to cite sources in your work means you've committed under-citation, leading to plagiarism. And the academic research community frowns upon this offense. Also, this offense is not acceptable in all publications, including music and films. Therefore, students should collect and reference their sources when researching and gathering information for their work. Including too many citations is called over-citation. Again, the academic research community frowns upon this, though slightly. Ideally, adding too many citations can distract your readers. And this is particularly true for in-text citations. To avoid this mistake, writers should not repeat citations as long as the information source remains the same and clear.
How To Put Citations In A Research Paper
As hinted, authors have formats for research papers citations. That's because the academic world has different disciplines and fields. And students and scholars in these areas can write research papers. Each academic field has unique rules dictating how researchers cite their information sources. Get paper writing help from professionals today! Here is an essential guide from professional college paper writers on citing information sources in research papers depending on your academic area or the style your educator specifies.
APA Citation Format Students should master this citation style when pursuing social science and psychology studies. Generally, an APA paper should have a title page, abstract, main body, and references. Here's how to cite research paper APA style.

Font: 12 points, Times New Roman
Spacing: Double-space
Margins: 1-inch margins
Page numbers: Every page should have a header at the top-left side and a short essay title, not more than 50 characters.
Title: Include the paper title, author's name, and institutional affiliation.

When citing a research paper APA style, start with the author's name, publication year, title of the work, city, state, and publisher, in that order. Here is a sample of an APA Citation:

Stewarts, D., & Simon, M. (2011), Business playground: Collision between creativity and commerce. Berkeley, CA: New Riders Press.

MLA Citation Format MLA citation is standard in humanities and liberal arts. Here's how to cite a research paper in MLA citation style.

Font: 12 points, Times New Roman
Spacing: Double-spacing and paragraph indentation
Heading: The first page should include your name, professor's name, course, and due date.
Margins: Each side should have a 1-inch margin
Page numbers: Top left side of every page should have a header, including the page number and last name.

When citing an MLA paper, start with the author's last name, first name, book title, publisher's city, publisher's name, year of publication, and medium, in that order. An example of MLA citation for your understanding:

Stewarts, Dave and Malik Simon. Business playground: Collision between creativity and commerce. New Rider Press, 2011.

Chicago Citation Format Chicago citation style is typical in humanities. This style requires the author to cite information sources in footnotes or endnotes. Here's how to cite a research paper in Chicago citation style.

Font: 12 points, Times New Roman
Spacing: Double-space every part apart from the block quotes, figure captions, table titles, and due date.
Margins: 1-inch margin on every side
Page numbers: The first-page header should have page numbers, from number 1 to the bibliography.

When citing a research paper in Chicago citation format, start with the author's last name, first name, book title, publisher's city, publisher's name, and publication's year, in that order. Chicago Citation example:

Stewart, Dave and Malik Simon. 2011. Business playground: Collision between creativity and commerce: New Rider Press, 2011

Turban Citation Format Citing a research paper in Turban style is the same as MLA referencing style. Thus, you include the author's full name and their work in brackets. Here's a research paper citation example in this format:


John. "Article's title." Journal's title 5, no. 7(2017): 4-12. doi:10.1111/bc.111111.

(4 – journal volume, 5 – journal issue, 4-12 – journal pages)

ASA Citation Format ASA citation style is the leading American quotation and referencing from the American Sociological Association. Here's how to cite a research paper in ASA citation style.

Font: 12 points, Times New Roman
Spacing: Double-space in the entire paper, including footnotes
Margins: Include at least ¼ inches on every side or according to the course instructor's guidelines.
Page numbers: Include page numbers on the top-right corners of all pages.
Abstract: Include an abstract separately after the title page, repeating the title as the heading. The abstract shouldn't exceed 200 words or one paragraph.
Keywords: Add 3 to 5 keywords
When citing a paper in ASA format, start with the author's last name, first name, publication year, title, publication country, and the publisher. Example of ASA Citation:
Welch, Kathleen E. 1998. Electric Rhetoric: Oralism, Classical Rhetoric, and New Literacy. Cambridge, MA: MIT Press.
Using Citations In A Research Paper
Many students ask about the information sources to include when writing academic papers. Each information source has features that affect how students cite it in their work. Popular information sources that students can cite in academic papers include:
Research paper
Web references
Scientific articles and journals
Books and chapters
Documents
Magazines
When considering citing scientific papers or scholarly articles, learners shouldn't forget that these sources can be very informative and helpful. Nevertheless, they should include peer-reviewed academic articles only. Learners shouldn't have difficulties using books once they understand the bibliography format for research paper citations in their academic fields. However, web sources require more attention because only credible websites and blogs should feature in academic papers. Ideally, students should avoid independent encyclopedias and blogs like Wikipedia. Additionally, learners should include information from credible online documents and magazines only. Essentially, any information that students quote or get from the internet should be valid. Also, learners should check the information they cite in their papers to ensure the owner published it within the past five years.
How To Cite A Research Study
Citing a research study is not that different from referencing a book. Here are the essential elements to include in your citation.
Author(s)
Title(s)
Venue or source name, such as the journal name or presentation conference
Editor
Edition and volume
Year of publication
Page number
Country and city
University or publisher for the thesis
Online source URL
DOI
Retrieval date for an online source
Ensure that your research study reference includes these elements depending on your citation style.
Enlist The Best Research Paper Writing Services Online
You don't have the time to write a paper and don't want to put your grade at risk, you need somebody to help you with your papers. Maybe you can't write a quality academic paper with proper in-text citation and a bibliography for any reason. In that case, don't risk your grade by submitting a poor piece. Instead, use our professional writing service and buy research paper online cheap to score high grades without breaking a sweat. We guarantee you that our ENL, US writers will deliver a top-notch paper within your timeframe. Our academic writing services are cheap, custom, and fast. Contact us with a "please, do my essay for me" request and we'll get your papers done.