Helpful Guideline On How To Write An Interview Paper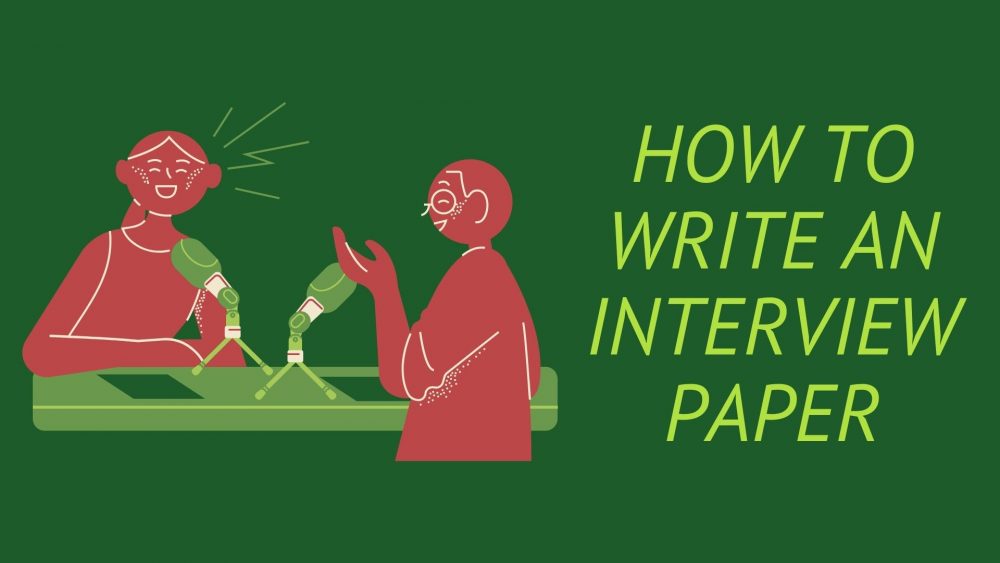 You most likely know something about an interview and an academic paper. But do you know how to write an interview paper? Most people see interviews in magazines and daily newspapers featuring at least two people. That's the interviewee and the person asking questions. The purpose of an interview is to discover a person's assessment of an occasion or a specific issue. But writing an interview essay entails more than posing questions and getting answers. This assignment requires pre-work and planning, which can make it intimidating and exhausting. However, don't panic if the educator has asked you to write an interview essay. This guide provides practical tips and hints for writing this academic paper.
What is an Interview Paper?
In simple terms, an interview essay is a paper that provides different perspectives or viewpoints on a specific topic or subject by interviewing at least one person and collecting information to draft a stellar piece. This paper is distinguished from other academic essays because people are the information sources, preferably authorities on a specific topic. Thus, you mostly don't rely on books or scholarly works on a subject to write this paper.
Your teacher will most likely require you to write an interview analysis paper if pursuing a course like journalism. That's because writing this paper will enable you to provide quality and detailed information about essential topics from the right experts in specific fields. For instance, you can write an interview essay after interviewing a psychologist or specialist in mental health and dealing with athletes. Such an expert can provide in-depth insights into popular spots situations. An interview essay should speak to the readers directly and bring the feeling of being present during the interview with the expert. Consequently, you should write an engaging, interesting, and informative paper. Also, interview a knowledgeable individual to gather factual, relevant, and accurate information on the subject.
How to Write an Interview
Once the educator assigns you an interview essay, start by studying a guide for writing it. Also, understand the entire interviewing concept before you start working on your paper. The following steps are essential when writing this paper.
Develop a list of relevant questions about the subject
Plan how you will spend the available time for writing an interview essay
Decide on the time to meet the person you intend to interview
Record the meeting
Analyze the records and notes
Write the paper
Like with other academic assignments, writing an interview paper starts with preparation. Therefore, create questions that you want to ask the interviewee. Also, set the interview time or date beforehand because you must interview before writing this paper. Once you've conducted an interview and gathered relevant information, start the writing process.
The Interview Format Writing
An interview essay has the same format or structure as most academic papers. That means it should have an introductory part, body paragraphs, and a conclusion.
Introduction The introductory paragraph features information that captures the reader's attention while motivating them to keep reading. The first sentence should serve as a soft definition while emphasizing the topic's importance. In the second sentence, build context by telling the readers how they can relate to your subject. In the third sentence, introduce your thesis statement, highlighting your readers' benefits from reading the essay.
Body The body part of the paper should include paragraphs with the main points of your interview. And these can consist of exciting details, facts, and insights into the interviewee as an authority in your subject. Ensure that the body part of your essay relates to your thesis statement.
Conclusion The conclusion should summarize your arguments while leaving the audience with a memorable statement.
To make your paper easier to write, start by drafting an outline, highlighting what will go into these sections of your essay. That way, you can determine whether every point will go in your paper before you start writing.
How to Start an Interview Paper
If you gathered sufficient data from the preparation stage, you could start with the introduction paragraphs. That means you can start by putting together the importance and purpose of your paper. Also, you can highlight the benefits your readers will get from reading your essay. In the introduction, include the primary question that your paper tries to answer. And this should be the main issue that your research tries to resolve. Starting your essay with the right content can impress the educator to award you the top grade. It can also help you focus on providing relevant information.
How to Write Up an Interview
After writing the introduction:
Proceed to the body.
Provide all facts and details.
Develop the key ideas that you expressed in your thesis statement in the body part.
Arrange the arguments in an orderly manner while adding quotes to prove ideas.
Summarize the relevance of the discussions.
Each body paragraph should support your thesis statement. Also, don't include extreme viewpoints because they might ruin everything. Instead, maintain a precise structure by leaving out insignificant details of the interview. Here are the primary elements of the body section of an interview essay:
Opening sentences introducing solid arguments
Interview data to support the arguments
Analysis of the interview data
A closing sentence for summarizing the main points
If you don' have the time to write a paper and don't want to put your grade at risk, you need a professional writer to deal with it.
How to Introduce an Interviewee in a Paper
You might have known how to write an interview essay but, how do you introduce the interviewee? In this paper, your task is to compile your interview material into a report, providing detailed and thought-provoking information from the interview. To introduce the interviewee in your essay, start by setting the right tone, including a thesis statement in the introduction. After that, you can transition by telling the audience something interesting about the interviewee. That way, you create a context for your interview while grabbing your readers' attention. For example, you can start by describing the interviewee's skills or what makes them stand out. You can also transition to a sentence that tells your readers why they should care about the subject. For instance, you can share details of the other side of the interviewee despite having excellent skills or talent. After that, you can move to your thesis statement to inform the readers about the paper's purpose.
How to Put Interview Questions into an Essay
You may have a pre-determined format when the paper is a class assignment. Nevertheless, ask the educator whether they need long quotations, paraphrasing, or questions and answers. Generally, your essay can take any of these formats. Question and answer format With this structure, you present questions to your interviewee and their answers. Thus, the essay features your name, the question you asked, the interviewee's name, and their response. Here's an example:
Your Name: For how long have you played tennis? Interviewee's name: About 15 years
Essentially, this format allows you to include direct quotes in your essay. However, using brackets, you can insert explanatory content in substitutions and parentheses, like the person's name, where you would include a personal pronoun. This format is ideal for a paper with a single interviewee. Narrative format With this format, you can paraphrase some information from the interviewee. However, you can still include direct quotes to emphasize what the interviewee said. This format is standard for class assignments, and it allows you to add analysis and context. Conversational format This format is looser than formal writing because it allows you to address your readers directly. You can also use the first and second person in the paper. This format is ideal for any interview, whether a magazine article or a class assignment.
How to End an Interview Format Paper
Ending your paper with the right content is as important as starting it properly. When finishing your essay, don't forget to focus on your main idea. However, don't sound blurry or mix several opinions. Your conclusion should sound laconic, precise, and straightforward. It should show the audience your reaction to the information that you collected during your conversations. What's more, it should inspire the audience to research the topic further. Additionally, your conclusion should connect facts logically while relaying arguments that you used to prove your thesis statement. A quality closing section should also include your response in one or two paragraphs, explaining the validity of your thesis, its proof, and closing thoughts. Also, tell your readers whether the answers you gathered from the interviewee proved the main point or didn't match the theory.
Tips on How to Write a Paper on an Interview
Whether a university professor asked you to write an interview essay or a high school teacher gave you this assignment, these tips will come in handy. Try them, and you will write a paper that will impress the tutor to award you the top grade.
Ask the right questions: Open questions are the best option for interview essay questions in most cases. That's because closed questions bring yes or no answers without evidence.
Record your interview: Although you can take notes, recording the interview will enable you to revisit some moments.
Include a reference list: Don't focus on the interview, and forget to include a reference list in your paper. Most interview papers include articles, discussions, and books in the reference list.
Analyze the interview thoroughly: Adding only the answers you received from the interviewee will present a paper with inadequate comprehension. Therefore, analyze the interviewee responses properly, including negative and positive objects and comparing other people's opinions.
Include proper citations: Even data that you gather from an interview needs accurate quotations. However, how you include sources in your paper should depend on the educator's instructions. Therefore, find out about the citation format that the educator wants you to use in the article. APA is the most recommended format for this paper, but your teacher can recommend a different one. Therefore, stick to your educator's guidelines.
Check examples: If unsure about what the educator wants you to write, read sample papers before working on yours. That way, you'll get insights into what your teacher expects from you. 
Get Help with Paper from Online Experts
Perhaps, you're stuck with an interview essay assignment. Maybe you're not confident in your paper writing skills. In that case, don't put your grade at risk. Instead, contact us for professional help with your paper. We're a professional team of academic writers with a proven track record of helping students with writing assignments across the study levels. Regardless of your predicament, we're the best experts to help you. Contact us with a "please, do my essay for me" request and we'll get your papers done. We guarantee you a fantastic custom paper that will amaze the educator once you hire us. Contact us now for quality assistance with your interview essay!